English
SUMATRASTRAAT LOCATION
Our group practice, established in 1992 and situated in the Sumatrastraat 205 (Archipel district in The Hague), is a team partnership of four physiotherapists. At our premises we have three rooms for treatment and a small training area with some equipment. If necessary treatment can take place within your home.
OUR TEAM
The Archipel Physiotherapy team consists of:
Birgitta van Dijk
Arina van Pelt
Alex Karimi
Ellen van Rossum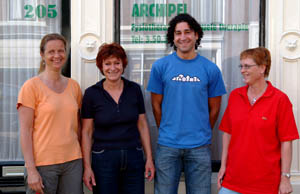 OPENING TIMES
The opening times of the practice are commonly from 08.00 to 20.00 Monday to Friday.
"DE BATAAF"  LOCATION
Since May 2012 Archipel Physiotherapy also operates in a new location at the Bataaf tennis park on the Ver Huellweg 2. The room for treatment is next to the newly refurbished fitness room and use can be made of the equipment offering greater possibility for rehabilitation training and medical fitness.
 
Archipel Fysiotherapie weergeven op een grotere kaart 
Paid parking operates from 9am until 5pm at the Archipel location. A parking space in front of the door for disabled is available from 9am until 5pm. At the Bataaf paid parking operates from 9am until 2pm.    
DIRECT ACCESS TO PHYSIOTHERAPY
A referral from your general practitioner or a medical specialist is no longer required for physiotherapy or for manual therapy. An assessment is made during an initial intake appointment with the physiotherapist as to whether physiotherapy is a suitable treatment or whether it is preferable to make a referral to your doctor. Of course you can still make an appointment with us if you have been referred to physiotherapy by your general practitioner, a medical specialist or your company doctor.                                       
INSURANCE COVERAGE
If you have Dutch insurance in general an additional supplementary insurance [ taken out in combination with the compulsory basic insurance] covers the cost of physiotherapy. The number of visits covered depends on the conditions of your supplementary insurance. You can refer to your policy for these.For some specifically detailed chronic conditions separate rules apply. [ see list of chronic conditions physiotherapy ] After 21 sessions for these conditions further treatment is covered by the basic policy.
If you have a foreign insurance you will receive  an invoice from us for payment.
You will need to make your own claim for reimbursement to your insurance company.
PHYSIOTHERAPY
A physiotherapist gives advice, guidance and treatment for physical disorders regarding movement and posture such as injury to muscles, tendons, ligaments and joints. Pain or discomfort resulting from disorders of the spine, nervous system, blood vessels, lungs, heart and skin can also be treated. 
A physiotherapist has a range of techniques from which to select and apply therapy: advice, exercise therapy, massage, therapy using ultra sound and other applications.
MANUAL THERAPY
Manual therapy is a form of physiotherapy that can be practised by a qualified manual therapist only. Following qualification as a physiotherapist a further training of manual therapy is undertaken to obtain the qualification of manual therapist.
A discussion to explore the nature and history of the complaint and a physical examination will take place. When the therapist has a clear picture of the condition specific techniques known as manipulation can be applied. The aim is to improve the movement and mobility of joints so that pain is reduced and posture and movement in daily life improve.
PSYCHOSOMATIC PHYSIOTHERAPY
Psychosomatic physiotherapy is a form of physiotherapy that can be used for stress related symptoms. A combination of physical treatment and adjustment to behavioural patterns is used together. Relaxation exercises and breathing therapy in combination with better insight into the disorder help the patient to become less vulnerable.
MEDICAL FITNESS
Medical Fitness is a form of fitness training that takes place under the guidance of a physiotherapist who has a special interest in sports physiotherapy. Training programmes are structured according to the capacity and required goals of the individual  participant. A programme can consist of condition training, training for power and strength and exercises to improve movement and co-ordination.
Following a "Fit Test " and an intake appointment a training goal is chosen and a plan is made accordingly.
The training programme takes place once or twice a week, in a group of up to a maximum of  ten people, under the guidance of the physiotherapist